Are you able to target the right attendees for your B2B events?
We go beyond the list and manage Registrations and Follow-ups
You can focus on managing the event, while we make sure you have the right audience
Ascentrik Research has over a decade of experience in sourcing the most relevant delegates, sponsors, and speakers for b2b events in multiple industries across the UK, US, Middle East, Asia, and Africa. 
Our customized Market Research and Analytics, and Competition Research will help you in the planning stage with finalizing a budget, selecting a venue, securing sponsorship, promoting, and marketing your event.
We do not store an existing database but build and validate each contact to make sure our database is 100% accurate.
We are fully GDPR compliant, and collect single and double opt-ins as well, to make sure the data is obtained only after consent.
We have clients specializing in year-round business conferences, in life sciences, tech, construction, HR, and a variety of other areas. We have been able to take these businesses from 30 to 35 conferences per year to about 180 per year in just a matter of 6 years.
Our Pre and Post List – Build Services
1 – B2B List Sourcing and Building for Delegates Speakers Sponsors
PROJECT SET UP AND MAPPING
Setting up projects in the client's CRM software (Salesforce).
Mapping contacts to campaigns based on the relevance of contacts.
PROJECT PLANNING AND MANAGEMENT
Allocating team members to ensure project completion.
Conducting quality checks.
Budget Analysis.
Delivery Management.
Contact Discovery – finding current, accurate demographic information for people & companies.
Voice Calls – to confirm details via voice call.
Opt-in – the database would not include a person's name unless he opted in.
GDPR – We are fully GDPR compliant, and follow strict privacy norms.
2 – Data Management and Inside Sales
Managing campaigns on behalf of the client. After sourcing around 4,000 – 5,000 contacts per campaign, we integrate them into the right campaign.
We take actions on the active enquiries through applications regarding the events running down the year.
The team converts leads to contacts as per the opportunity generated via the application.
Data cleaning activity is also performed manually on a daily basis.
We take action on the active enquiries through emails/calls regarding the events running down this year. (fixing meetings, handling various requests.
The team creates new opportunities if not available on the contact, and also adds contacts to the database, if not present. All this is done directly on client CRM.
Assigning contacts to the right marketing manager.
Sending emails on behalf of the company or forwarding it to sales representatives.
3 – Reports and Dashboard Management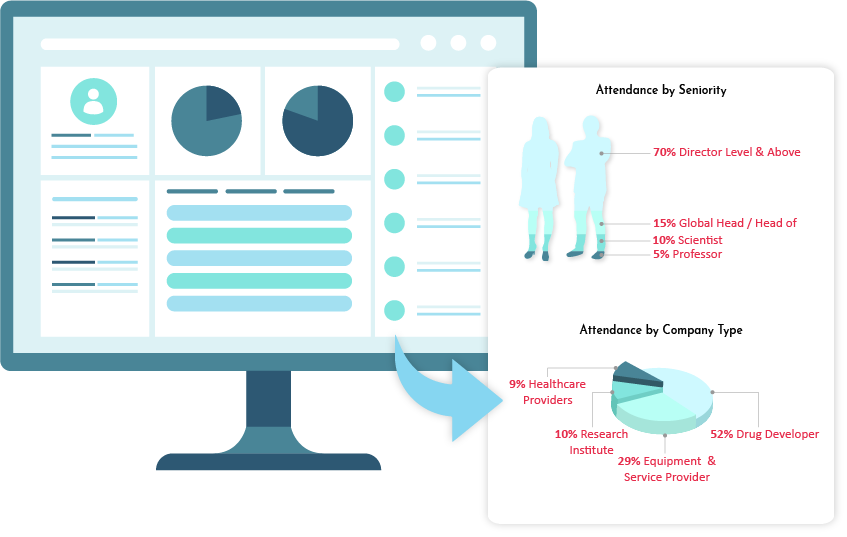 Under a single click for the dashboard, the client is able to view much more detailed information regarding any specific project. This also involves graphical representations, pie charts, budget mapping, project deliveries, etc. 
We showcase reports covering the entire picture of the project after completion, including the turnaround time, number of leads generated from the sourced contacts in a campaign (its percentage, regions, industries, titles).
Our clients have also trusted us with more outsourcing work as they began to see real value in having an extension of their own research team, working from India, on a full-time basis.
In just a decade, we have made a huge impact on our industry. With our efforts, our client's business increased, while helping them to reduce their team size, effort, salaries, and infrastructure costs. As of 2021, these clients have scaled up their targets by at least 5 times, thanks to our qualitative and quantitative data. We have enabled around 70% growth for our long-term clients, in terms of business and ROI.
The number of events and conferences increased per year (from 38 to 180 events).
The number of attendees & sponsors has increased drastically.
85,000 contacts delivered per month by the end of 2020. We researched & called approximately 130,000 – 140,000 contacts per month.
Frequently Asked Questions
How do we ensure strict privacy with the client's data?
We are 100% GDPR compliant, and ensure your data is always private and confidential. Our research and data is built from the ground up, for each new client. Your data is not stored in a common, downloadable database.
How do we ensure you pay only for what you use, and how can you get 100% returns from the contact list you have purchased?
If a contact changes his job, or in the unlikely situation that an email bounces, we replace it for you, with a valid one. So you pay only for successful contacts.
Why should you rely on our data?
We conduct Primary and Secondary research, through interaction with C-level executives at Fortune 500 companies, regarding their current performance, transactions in niche markets, and future launches.

We source data from annual reports, databases, industry commerce sites, country departmental sources, etc. We research the most complex information such as various industry market reports, SEC filings, form 990, capital, and private market data.
How do we validate our data?
We conduct Research Triangulation, a method used by custom research companies. We use more than one method to collect data on the same topic, by testing validity through the convergence of information from different sources. This research strategy uses multiple sources, multiple methods, and even multiple investigators to develop a comprehensive understanding and to capture different dimensions of the same phenomenon. We conduct email and phone verification of emails ids and phone numbers. We collect single and double opt-ins as well, to make sure the data is obtained after consent.
Ascentrik specializes in Custom List services based on your target criteria. No matter how niche the target is, we can build custom lists to match your desired market specifications. Our 100% List Management Accuracy Guarantee ensures that every marketing dollar you spend is targeted at the right person.
See how our data can give you the highest ROI