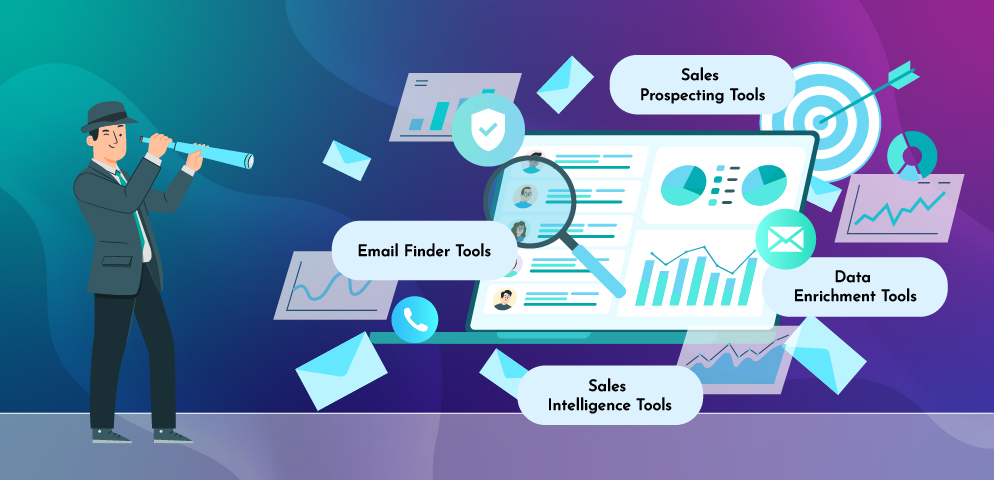 Are high quality leads possible with email finder tools?
Email finder tools are an important segment of b2b data solutions and have many benefits like their quick and easy accessibility, and fairly simplified interfaces that you can navigate through and download data in bulk. Many provide free trials so you can test them out before you buy. They integrate with most CRM systems. It's a quick way to get started with email marketing campaigns, and it avoids the task of building a list yourself through content marketing.
What software platforms stand out among the top performers while evaluating email finder tools?
These tools are known by different names like prospect list building tools, data enrichment tools, sales and market intelligence and sales prospecting tools. But they perform largely the same functions, with differences in number of features available, accuracy levels and pricing.
Solutions and tools like Zoominfo, Lusha, D&B Hoovers, Cognism, Up Lead are some of the b2b email list building and sales intelligence tools that help companies carry out sales prospecting and lead generation. They work as software tools that have a large database of millions of email addresses and direct dials, that you can download from.
An evaluation of b2b email finder tools and software solutions
But the question on most marketing and sales teams minds, is that can software tools give you highly qualified and targeted leads for your email and advertising campaigns? The main factors that need to be evaluated are accuracy and pricing. When a marketer or sales person evaluates their campaign's requirements against the budget available, it comes down to Accuracy versus Pricing. So let's get an in-depth look into these factors.
According to reviews, the 2 main complaints many users have had with email finder tools and data enrichment software is the high cost and lack of complete accuracy, which is incorrect emails and phone numbers. With many software tools, their data is not as accurate as they claim it to be.
Why are software tools low on accuracy?
The problem with online databases and tools is they are stale and inaccurate because only popular subsets of the database are refreshed monthly or quarterly or yearly, from industries and job functions that are in demand. Stored data gets stale on a weekly basis as contacts switch jobs. Therefore they need to be refreshed periodically which is not feasible due to the large sizes of databases. This necessitates automated data verification on a monthly or quarterly basis. Real time refresh of stored databases is impossible to automate. Plus there are many niche industries which are not even available on many online databases.
The result is you end up paying for inaccurate leads, then you may go on to paying more and refreshing the stale leads. With many tools, credits are not carried over to the next month. With inaccurate contact details in your email campaigns, you end up with lots of bounced emails, contacts unsubscribing to your lists, and overall low open rates. This damages your brand value.
The next point to be addressed is that of Pricing
Some lead list building tools like Lusha, Up Lead, Lead 411, Seamless.AI, Hunter, Swordfish, Lead IQ, and Rocket Reach have revealed their pricing plans on their website. They have around 3 to 4 pricing plans and are usually based on a freemium model. The customer is billed annually.
But ZoomInfo is priced the highest compared to other data platforms. ZoomInfo's pricing starts at around $14k per year and requires a contract.
Many work on a credit system, where one credit is used up each time you export a contact's information. In some cases their pricing is not completely transparent and contracts are auto-renewed.
Companies like D&B Hoovers, Cognism, Slintel, Sales Intel, Clearbit, and Sisense have not revealed their pricing, but a free trial is available.
The most common downsides of lead list building tools
But the most common downsides of using such tools is firstly, the inability to have all the features you need within a single tool. In that case, you may end up juggling between 2 or more tools, which ends up in more time and money spent. Therefore it's important to make sure you have all the features you need by using a trial version first. Lastly, since data is shared between users, you and your competitors end up having very similar data. There is a lack of exclusivity.
Also, some tools still charge for inaccurate and unverified contact data emails or numbers which is wasted money and time down the drain. Despite tall accuracy claims, you end up with bounced emails on your marketing campaigns. This is because data gets stale and needs to be updated often. Most platforms have a fixed refresh schedule like 30 or 90 days, leading to a lot of stale data.
Therefore you need to start by narrowing down what is the most important need for your marketing campaign and evaluating that against your budget.
Custom data research is the best of email finder tools packaged into one solution
The solution to the problem of low quality leads, requires a very unique approach, that doesn't rely on storing databases at all. Here databases need to be custom built from the ground up for each client's email or advertising campaign. This is a process of data research done by a team of data experts who use a combination of automation and manual verification to source and refresh databases, in real time.
That's how you get 100% accurate leads with Ascentrik. We don't store databases but build them from scratch for each client. We provide replacements for contact data that turns stale from a person having left the job. We provide single and double opt-ins for consent based email marketing, to ensure all the leads on your list have opted in to receive your email. Our lists are exclusive and fully GDPR compliant, as per UK and US data privacy standards. Our data gives you higher ROI and complete value for money as it is 100% accurate. Ascentrik also has very flexible pricing options. We charge based on the specific contact and company details you need. We charge separately for consent based single and double opt-ins.
Like any other email list providers, Ascentrik's data is also secured with authentication and encryption, and is fully GDPR compliant. We also integrate with CRM/ERP solutions such as Salesforce, Microsoft Dynamics, Hubspot, Marketo to name a few. Ascentrik also provides market intelligence and automated workflows that help you in marketing and business development. We give you intelligence on competitors' keywords and social media engagement.
When it comes to customisation, scalability, integration, ease of deployment, and administration, Ascentrik does just as well.
One point worth noting with tools is that needing to be logged into the tool 24/7 turns out to be an issue for users, so some tools have come up with a Chrome extension to resolve this issue. Since Ascentrik is not a tool, you don't need to be logged into it at all. Our team at Ascentrik handles the data sourcing and verification and then plugs it directly into your CRM, while always maintaining a transparent communication channel with your company's management team.
Another important factor that users look for is technical support. Ascentrik's team works on a full time basis as an extension to your own team. We have developed very efficient communication methods to provide full support to our clients' teams right through their email campaigns, and not just during data delivery.
This critical evaluation of the various email list building tools, solutions and data providers in the market brings us to the conclusion that custom built databases are the most effective. They are not built for the masses but as per individual needs. Custom sourced, bespoke databases are not built by bots that scrape online directories, they are curated as per the client's industry and job roles of interest, therefore you are able to target the right decision makers. You will be freed from the problem of bounced emails, and also have added market intelligence to quicken your sales cycle.
Or sign up for a free consultation! Give us a few details about the industry you are targeting and volume of data, and we'll guide you through obtaining a customised database, tailored perfectly to fit your campaign's goals.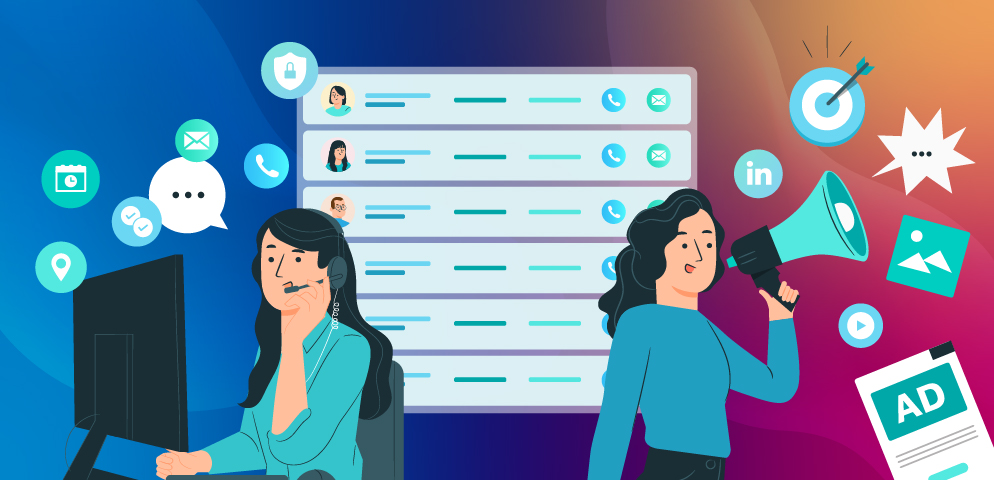 B2B lead lists, or prospect lists, have become an important aspect of businesses in today's economy. By having a targeted list of potential customers, you can focus your efforts and resources on those who are more likely to be interested in your product or service, increasing your chances of success. Some of the major applications of a B2B lead list are cold calling, advertising and email marketing.
Reaching out to new prospects and eventually converting them into customers is directly proportional to a company's growth and increasing revenue; therefore, leveraging a high-quality B2B lead list is beneficial for your marketing and sales teams.
read more