Three Ways to Build a Database for Email Marketing and their Pros and Cons
You may be looking for a quick way to discover qualified leads, to achieve a good ROI on your next marketing campaign. Or you may want to build a high-quality lead list yourself, based on interest in your product or service. Whatever be the case, there are some very important aspects about building a database of email addresses, that you need to be aware of, before you go ahead with your email marketing campaign.
Quality Of Email List
You may have already heard that email marketing is one of the most successful and profitable forms of marketing, but you should also know that the success of your email marketing campaign is directly dependent on the quality of your email list. Without an accurate and relevant list of contacts, your efforts will end up being a waste of time and resources. Here are some pros and cons of 3 methods to build an email address database, so u can choose the best one based on your needs.
The 3 Most Prominent Ways To Acquire A Mailing List
01. Building an email database yourself:
Acquiring the list yourself is a great way to ensure that all the contacts on your list are those that have explicitly opted in to receive communications from you. It requires site visitors to fill up a form or provide their email ids to receive newsletters, discount offers, or product information from your company.
How do you build an email list yourself?
The answer to this is quality content. Maintaining a blog that is updated regularly with posts and infographics, will draw viewers to your site. At the end of each piece of content, you need to add relevant and personalised calls to action that encourage people to sign up or subscribe to being notified about further such content. Since people who visit blogs are looking to solve a very specific problem, or gather information on a specific topic, offering a free pdf download in exchange for their email id will surely entice visitors looking for detailed information.
Pros- 
The main advantage here is that you can be sure all the contacts have expressed interest and consent to receiving emails, so they are more likely to read through and less likely to unsubscribe.

Your email will reach their inbox rather than it being classified as spam before they even see it.
Cons- 
Creating content on a regular basis is a resource-intensive task. You need to have a team of writers and subject matter experts to create content on a regular basis, as well as a marketer who can promote the content on social platforms. Having your own content team can be seen as an advantage in the long run, but if you are restricted by budgets or resources, this can be seen as quite a disadvantage.

Secondly, when viewers sign up for free content, they can always unsubscribe later, once they have found the information they were looking for, or if your content is no longer able to capture their interest. This is where writing for a niche comes in. You will receive fewer views and sign-ups, but they will stay. This brings us to the fact that it's not just about quality writing, but also keyword research to know what the audience is looking for and create content around that. Both of these are time and resource-intensive processes.

Thirdly, there is very little way to ensure how far your subscribers are involved in the decision-making process unless you create very specific content and CTA's to figure that out. And yet you will not have company intelligence based on primary(in-person) and secondary(online) research.
02. Download a mailing list from an online email database:
This is the method most frowned upon, out of the 3. Yet, lots of companies allow you to sign up and buy a list of email addresses from a large email database software, for a certain amount of fee. This may be the quickest method, but as you might have guessed, is not the most fool-proof and reliable.
Pros- 
The only pro here is that you save time in doing all the hard work, as these lists are already built for you. 

The cost in terms of effort and budget is also low, as you don't have to hire a team to work on content.
Cons-
The quality and accuracy level is uncertain as these email databases are not refreshed in real time. Data tends to get stale very quickly, so this can result in email bounces during your email marketing campaign.

You are most likely to not receive leads with double opt-ins. This results in a high risk of being classified spam by the email client or person reading the email.

The database of email addresses you receive and that which your competitors receive, will be exactly the same, preventing you from having an edge over your competition. 

The email database company may not comply with strict Privacy standards and GDPR rules, so you need to ensure that they do, before signing up.
03.
Obtaining an email list through custom list research:
Custom research is the process of having a team of research experts works directly with the client, to understand and fulfill their unique data needs. The team researches various online sources as well as conducts interviews with key industry personnel, to gather relevant intelligence and insight, along with a complete profile of potential customers.
Pros-
You receive contact and company insight and profile data like contact, company, job level, country, and city-level information, along with phone numbers, company size and revenue, demographic, and firmographic data. You get a B2B email Marketing list that is industry-specific, and refined further according to sub-industry or based on NAICS or NACE code.

The data you receive has a higher level of accuracy, since it is derived through automation, and also quality checked through human verification. Email verification software is used to check for invalid emails. Calls are also made to verify phone numbers. This way the data is always refreshed and verified.
3. You can reach decision-makers and ideal customers in your target market, so you can directly connect with them and close deals. You get a list of managers, CEO's, CFO's and stakeholders in various industries. These very specific email lists, focusing on any niche of your choice, help you target your email campaigns to exactly the right audience. 
4. Relevant Insight- Since custom database research companies conduct primary(in-person) and secondary(online) research, they are able to provide 360-degree intelligence and insight into personas, companies, industries, and markets, that helps the sales team pursue the right leads, at the right time and close deals.
5. Cost-effective- Many companies that provide bespoke solutions, also make sure that they have some provision for bounced email since email bounces are bound to happen, as people may switch jobs any time. So even though custom research would generally cost more than ready-to-download databases, it turns out to be cost-effective in the long run, as your money doesn't go to waste over bounced emails.
Cons-
The only element lacking here is that the person has not personally subscribed to your communication. This makes it very important to have a complete verification done before beginning your marketing campaign, to make sure that there are no bounces and you don't come across as spam.
The above pros and cons will help you choose the best fit for your company, as you weigh factors like time, budget, and human resources associated with creating high-quality content in-house. Or the alternate option of saving time and money by downloading an existing list, but losing out on data accuracy. Nevertheless, if high accuracy and low bounce rate are what you are looking for, you may want to consider custom database research, that has both short-term and long-term benefits.
See how Ascentrik Research differs from the competition on all the above factors.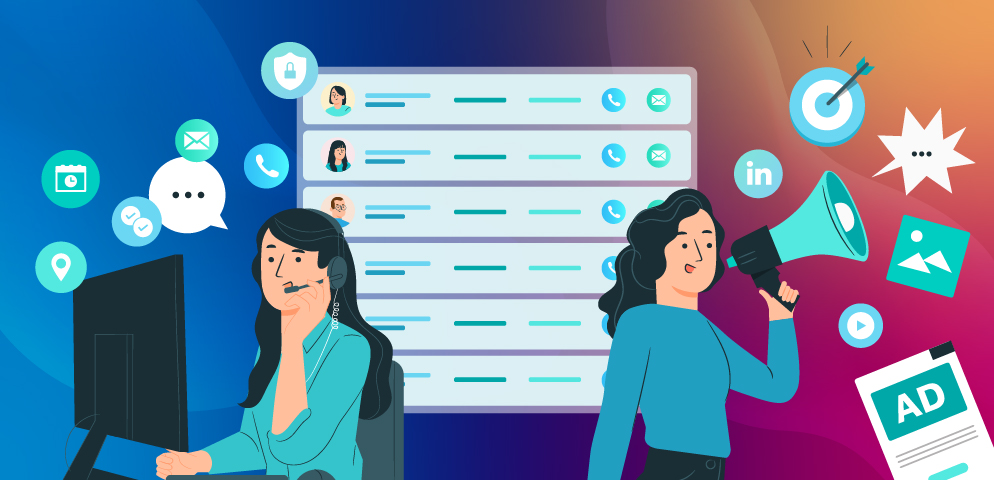 B2B lead lists, or prospect lists, have become an important aspect of businesses in today's economy. By having a targeted list of potential customers, you can focus your efforts and resources on those who are more likely to be interested in your product or service, increasing your chances of success. Some of the major applications of a B2B lead list are cold calling, advertising and email marketing.
Reaching out to new prospects and eventually converting them into customers is directly proportional to a company's growth and increasing revenue; therefore, leveraging a high-quality B2B lead list is beneficial for your marketing and sales teams.
read more