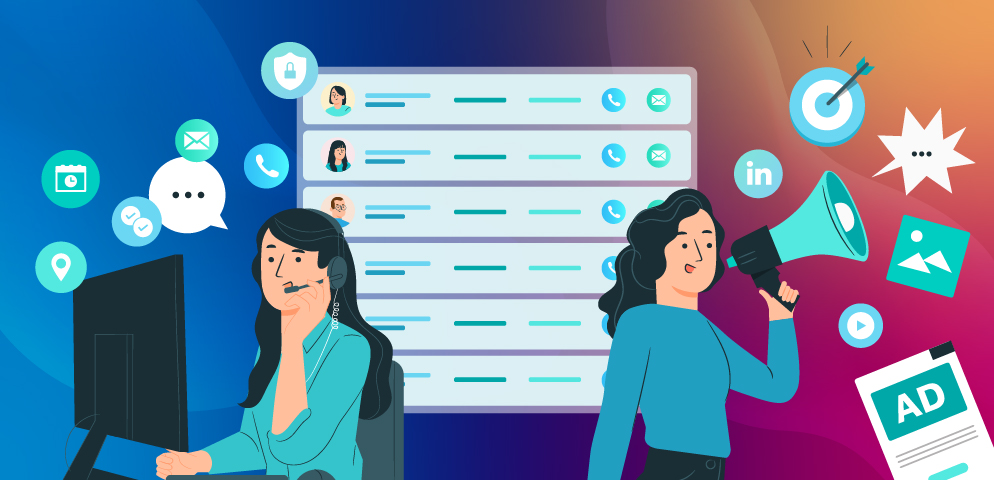 How to build an effective b2b lead list for cold calling and advertising
B2B lead lists, or prospect lists, have become an important aspect of businesses in today's economy. By having a targeted list of potential customers, you can focus your efforts and resources on those who are more likely to be interested in your product or service, increasing your chances of success. Some of the major applications of a B2B lead list are cold calling, advertising and email marketing.
Reaching out to new prospects and eventually converting them into customers is directly proportional to a company's growth and increasing revenue; therefore, leveraging a high-quality B2B lead list is beneficial for your marketing and sales teams.
The importance of Lead list building for Cold Calling
Cold calling might be seen as an ancient method of reaching out to your prospects, but it is considered quite effective by marketers and salespeople. Cold calling can become a tedious task if you have not targeted the right prospects through very precise and granular methods. Cold calling leads that might not be the best fit for your product and services, results in wasted time and effort.
A well-researched B2B lead list allows your teams to focus their efforts on businesses that are more likely to be interested in what you have to offer, increasing the chances of conversion. The list can be customized to include additional criteria, such as industry, company size, location, and job titles, ensuring that the leads are verified and highly qualified. A layer of sales intelligence can also be added to tell you which companies use the technology products you are selling, when is the best time to approach any lead, creating a personalized pitch that establishes a connection with the potential customer, and most of all which accounts are in the market with the intent of purchase.
When all the above points are taken into consideration, you have a lead list enriched with all the important data points, so you can pinpoint your prospects for targeting through cold calling or advertising or email marketing.
The importance of Lead list building for Ad Campaigns
Another crucial way to reach new prospects is through advertising on social media. With the advent of social media advertising, businesses have been able to streamline their efforts to a targeted set of prospects who are shown advertising messages based on their preferences, increasing their chances of conversion.
Besides advertising through google ads, the two social media networks most preferred by B2B marketers are LinkedIn and Twitter. LinkedIn has over 900 million members, and Twitter has over 300 million monthly active users (MAU), which might seem overwhelming at first, but a B2B lead list helps to funnel down that number.
By using a prospect list, you can create custom audiences on social media platforms, ensuring that your ads are seen by potential customers who are more likely to be interested in your offerings. This targeted approach can help you save money on advertising costs and increase your ROI to a great extent.
A well-curated B2B list can play a good supporting role in improving your conversion rates by actively engaging your prospects with your content or advertising message. This leads to a better customer experience and a better brand reputation. With the full extent of additional data points, you can create specific messages by segregating your leads based on their industry, company size, job titles, etc.
How do you acquire such a list that supports your cold calling or ad campaigns?
The demand for top quality lead lists is at an all-time high. Businesses are looking for the best possible solution that aids their cold calling and ad campaigns. It is crucial to understand that the main component that distinguishes a normal list from a high-quality list is accuracy. A lead list with high accuracy would benefit your marketing and sales teams in making informed decisions, reaching out to the right people, streamlining your efforts and time, and driving a high ROI. There are primarily three ways that would help you acquire and build an effective B2B lead list.
Build It Yourself:
Building your own lead list starts with identifying your ideal customers and conducting your own market research. Before embarking on any lead generation activities, it is important to clearly define your ideal customer profile (ICP). Look at your existing customer base and identify the characteristics, demographics, and behaviors common among your most valuable customers. This will serve as a blueprint for the types of leads you want to target.
Optimize your website for lead capture by ensuring your website has a clear call-to-action and lead capture forms. Offer valuable content, such as ebooks, whitepapers, or webinars, in exchange for visitors' contact information. This allows you to capture leads who are genuinely interested in your offerings.
Look for direct dials. These are phone numbers that connect you directly with the person you want to reach. They can be found through various sources like Linkedin, or by using b2b data solutions, or email finder tools, which provide various contact details like email addresses and phone numbers, along with additional sales intelligence.
Explore Company Websites: Visit the websites of companies in your target industry to gather information about their products, services, and key contacts. Look for sections such as "About Us," "Team," or "Contact" to find relevant names and contact details. Some companies may also have downloadable brochures or whitepapers that can provide additional insights.
You can join relevant industry associations to build connections with people to build your own list without even going online. Participating in industry conferences and networking events provides opportunities to connect with potential leads face-to-face. Collect contact information, business cards, or use mobile apps specifically designed for event networking. Maintain a database of these contacts for future cold calling outreach.
Referrals and recommendations can be a powerful source of leads. Reach out to existing customers, partners, or colleagues for referrals. Offering incentives, such as discounts or exclusive content, can motivate them to help you connect with potential leads. Additionally, actively ask your satisfied customers for testimonials that you can use in your cold calling efforts.
Identify complementary businesses or vendors that serve the same target market but offer different products or services. Establishing strategic partnerships can help you gain access to their customer base and exchange lead lists to mutual benefit. Invest time in building strong relationships and ensuring that both parties benefit from the collaboration.
As you collect leads, qualify and segment them based on their level of interest, industry, company size, or other relevant criteria. This will allow you to tailor your marketing and sales efforts more effectively.
Lastly, remember, it's essential to comply with applicable laws and regulations regarding data privacy and telemarketing. Ensure you have the necessary permissions to contact individuals or businesses before initiating any outreach efforts.
One of the major drawbacks of this method is that it is resource-heavy; you must invest in a dedicated team of list builders, content writers, and subject matter experts to create your content and capture leads. Another disadvantage is that people often unsubscribe from your content if their interest diminishes, causing you to lose a lead.
Buying a List Online:
Buying a list online refers to b2b data solutions and databases, or email finder tools. They are also called email verifier tools or sales intelligence tools, as many of them provide additional layers of marketing and sales intelligence. You can use these online research tools to identify potential leads that match your ICP. A variety of platforms, such as LinkedIn, Google, and industry-specific databases, can help you find companies and individuals within your target market. Use advanced search filters to narrow down the results and focus on leads that have the highest potential.
To understand the limitations of these tools we need to understand how they work. These data solutions and email finder tools are basically storehouses of very large datasets. They allow quick downloads for multiple users. The main issue is in keeping these millions of data points refreshed in real-time, which is not feasible even using software automation. This results in lack of accuracy in the contact details they offer, despite above 80% claims of accuracy.
Custom Data Research Providers:
This brings us to the third method which is custom data research, where millions of data points are not stored in databases, but data is freshly sourced, from the ground up, for each new client.
Thus the solution seems to be not in refreshing millions of data points every day, but building a fresh and unique list. This ensures that the data you get is tailor-made for your campaign, focusing on specific niche targets of your choice, and unique from your competitor's data. If a contact changes his job during your campaign, his new details are shared or a replacement contact is provided. Consent is obtained through single and double opt-ins, and GDPR norms are followed. This method of custom data research enables 100% ROI on your campaigns.
Verification of lead details
Lastly, no matter which of the above 3 methods you choose, your list needs to be up-to-date with the most recent details at all times. Whether it's an email list or cold call list of phone numbers, it needs to be cleaned of stale data. If you do this process manually, you will need to remove outdated contacts and add new ones yourself.
If you are using software tools, you should choose one that has a built-in qualification process. These tools have algorithms that automatically qualify leads so you don't have to go through them manually.
Lastly, you could outsource this effort to a data research vendor, who will use a team of full time data experts plus software automation, to source and verify leads for your cold calling or advertising campaign. This is the only method that ensures 100% accuracy and 0 errors as the team supports you till the end of your campaign, unlike common data vendors whose liability ends with the download of their data.
In conclusion, building a solid lead list is essential for successful cold calling. By defining your ICP, utilizing research tools, leveraging social media, attending events, and using referrals, you can identify potential leads that match your target market. Putting all this time and effort requires your company to hire an in-house marketing, sales, content and business development team. To save all this effort, cost and resources within your company, and get this work done by specialists, you can simply choose to get your b2b lead list outsourced from full-time data researchers. They provide the most accurate and highly targeted lead lists for advertising, cold calling or email marketing. They also provide cleansing and verification services, project management in your CRM database, and pre-sales activities.
Remember to continuously refine your approach to improve the effectiveness of your lead generation efforts.
Out of the tons of vendors to source and enrich data, Ascentrik Research is one of the very few data enrichment partners, who gives you a team of researchers. These researchers source, validate, cleanse, and enrich your data in real time for your campaigns. Rather than relying solely on automation, we have a team of researchers who build exclusive databases for each client, without storing or reusing previously built databases. Each phone number and email id is manually verified through calling and automated email verification programmes that ensure user consent, accuracy and data privacy.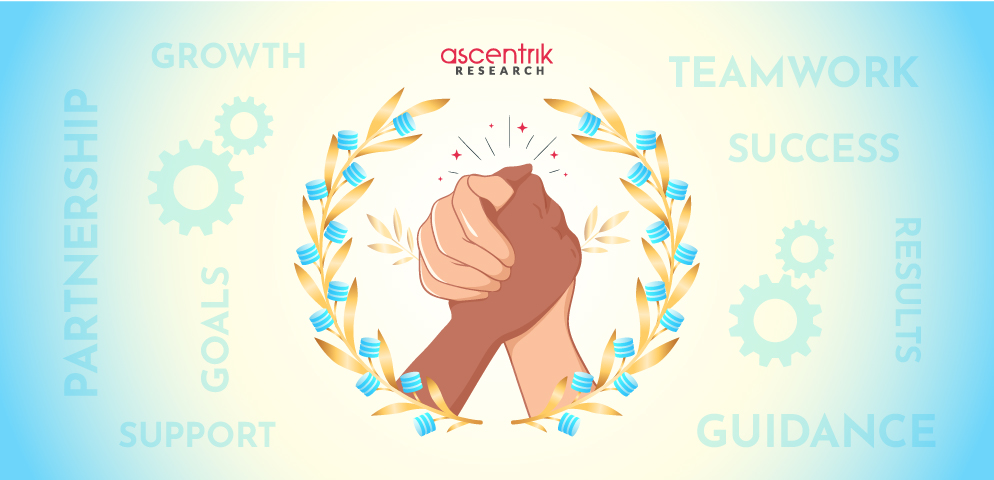 B2B Data validation and enrichment is the practice of refining your existing CRM database by eliminating redundant and unwanted contact information and appending additional data points to your prospects' records like phone numbers, industry, size of the company, designation, etc. It is one of the most beneficial practices for both your marketing and sales teams.
Refreshing your email list can be seen as an ongoing process during your marketing campaigns, as it allows you to source highly qualified leads, which enables targeting the right person with the right message. It can help your sales team with customer segmentation and lead scoring, allowing them to create personas for your prospects and craft a personalised sales pitch, improving the chances of converting them into customers.
But what is the most profitable method to get this highly valuable task done? Is it software tools for automated data enrichment or tools enhanced with data research by a team of experts? Find out the benefits of both in the article below.
read more