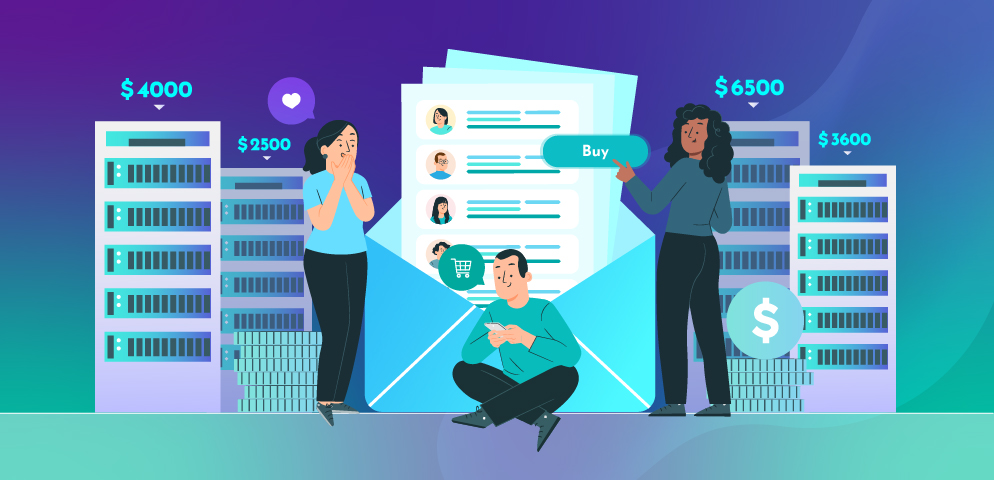 What does it cost to buy an email list?
-Direct and Hidden Costs
How much does it cost to buy a b2b email database?
The cost of buying an email database depends on the quality of the addresses and types of people on the list. A consumer list costs anywhere between $100 and $400 CPM. CPM is the price charged for every 1,000 email addresses that you purchase. At the same time, you have to pay a lot more for a business email database, which is approximately $200 to $1000 for the same number of addresses. The more targeted the email list is, the more expensive it becomes.
Generally, such providers of databases or software tools, offer multiple price options, based on your team size, your use case, and some of your other requirements. Certain companies also offer free trials for you to test out their email accuracy. They might provide you anywhere from 5 to 25 free emails.
If you look closely, many providers such as Cognism, DnB Hoovers, ClearBit, SiSense, etc, do not openly mention their prices on their websites but rather require you to contact their sales team to get a quotation based on your requirements. This is a common practice for service providers or software companies.
On the other hand, there are a lot of other companies that do provide their pricing details. Most of these tools provide you with monthly credits in order to access their pre-built databases and export email lists according to your preferences.
What is the most cost-effective way to buy an email list?
Buying an accurate email list should involve a combination of pre-built databases for quick download, as well as premium, customised databases for niche and specialised industries and job titles. Lets understand the cost-effectiveness of both common and premium email lists.
There are multiple providers or brokers that can sell you millions of records at a low price. But most of the time, a majority of this data can either be non-consensual or junk and stale. This could be considered illegal in some countries as well. Therefore, it may hamper your business functioning altogether. It can also increase your cost in the long run by necessitating you to re-validate your data records.
When people say that they are buying an email list, they don't exactly own the list but rather pay an amount of money in order to access the list from an email database which contains millions of contact records. This may result in identical data as your competitor would be accessing the same database, thus reducing the results of your marketing efforts.
Another issue that many users have raised is the credit system used by these companies, and purchasing more credits can be costly. Therefore, when going for quick download of pre-built databases, one needs to be very vigilant about all these factors.
Lastly, if you are targeting a niche industry or specialised job functions, you won't find this data in pre-built online databases. This requires a custom solution that costs more as it is more time and resource intensive. But you can be assured of 100% accuracy in the most difficult of target markets. This helps you generate very high quality sales leads, even in the narrowest of markets.
Finding a data provider that can offer both, pre-built databases for quick download, and made-to-order databases, is the most effective method for the long run.
An email list can be your greatest asset in targeting prospects, so ensuring its quality is a must. Your organisation must seek out trustworthy and dependable data providers who can guarantee high-quality data that is validated just before download.
What influences the cost of email databases that are customised?
The cost of data research is customised for each client, and higher than email finders. The cost is based on the following factors:
Made-to-order- Custom contact databases are sourced using exclusive, full time data researchers, along with automated software. The outcome is not just the email list but the success of your marketing campaigns.
The database is always fresh since manually built databases are never stored. Once they are handed over to the client, the data is deleted so none of your competitors have access to the same list.
Explicit consent of each person is gathered. These are called single and double opt-ins that need to be used in consent based marketing.
Niche Targets- A data partner would not only help source broad market data like software engineers or b2b salespeople but could also help you source even the most niche data like maternity nurses working only in the west part of New York, or event marketers working only in the oil and gas sector in the UK. This is something you cannot get in an online database.
You receive exclusive ownership of your contact list. Your data is deleted from the vendor's system.
The pricing structure will benefit you in the long run, as your data will not turn out to be stale, your emails will not bounce, and you will not need to pay twice for getting your data re-verified.
Buying an email list from Ascentrik Research:
Our data is available on demand, as well as a customised solution!

The price range we offer is anywhere between $800 to $1000 for 1000 email addresses.
All contact data that you buy is verified before you can integrate it. We verify our email addresses and phone numbers for markets across the globe, and extensively for the US and UK.
Our email lists come with a timestamp of the last updated date and time.
Some vendors assure that if 5% of their emails bounce back, they provide credits for more data. But Ascentrik Research gives you a 100% replacement guarantee and charges only for successful records.
Buying our custom contact databases include consent-based single and double opt-in's.
We offer top C-suite level data including names, emails, phone numbers, zip codes, and more. Choose from various demographic and firmographic filters.
Our contact databases are built for Integration with any software and file format.
Get alerts of latest news events, industry trends, potential sales trigger events.
We support customisation of data and pricing to provide the best solution for your company's needs.
Our pricing differs for common and niche categories. Niche targets require custom research, hence are more resource intensive in terms of time and cost.
Your email bounce rate decreases and open rates increase, making your lead generation campaigns, email marketing and cold-calling campaigns very effective.
When you buy our contact database you receive 100% GDPR compliance.
Get highly targeted and segmented lists based on the following categories:


Contact Social Media URL
Ascentrik allows you to customise and buy your email list no matter how niche your target!
Ready to Buy your B2B Email List!
What are the legal considerations when buying a contact database?
Your data provider should not overlook privacy norms, GDPR regulations, and consent based opt-ins. Single and double opt-ins indicate the receiver's consent towards receiving the marketing communication you will be sending them.
Can I buy email databases by industry and/or by zip code?
Yes, you can filter your lists by multiple criteria like industry, job title and function, zip code etc.
We provide our clients with premium data, including email addresses, phone numbers, postal addresses, and much more.
Is it a good idea to buy an email list database?
Many advise against buying an email list, due the problems with data accuracy and high rates of data decay. Another issue is unsolicited emails and phone calls, if the data provider hasn't obtained consent. A third issue is the similarity between yours and your competitors' data.
All these problems can be handled easily by data research partners, as described above. We make sure every record is researched and validated before handing it over to you.
How do I buy quality email lists?
You can buy very high quality and accurate email lists from data partners like Ascentrik Research, by just filling one of the quick forms, provided across our site. We offer a 100% data replacement guarantee, so you pay only for successful records.
How does Ascentrik ensure it is safe to purchase an email list from us?
A reputed and reliable data provider like Ascentrik Research provides common databases for quick download. We also offer custom databases that require specialised research and validation. We work with you till the end of your campaign, to ensure that all the contact records have reached the right target. Therefore it is definitely safe to purchase our data or partner with us for custom data, as we make sure our data meets every requirement.
Where should I not buy email list databases from?
Buying email lists from cheap sources that don't ensure verified contact details, can increase your email bounce rates. It's always good to check if your vendor provides GDPR compliance and single and double opt-in consent.
Can I buy a contact database with opt-in data?
Yes. We offer single and double opt-in data, so you can obtain consent from everyone on your list, before reaching out to them.
Can I buy a targeted email list?
Ascentrik Research specialises in building highly targeted email lists for niche industries and job titles. We have a team of full-time researchers sourcing and validating data for specialised targets.
What format does the purchased email database come in?
We can provide email lists in any format as per the client's needs. We provide custom API integration with the client's CRM software.
Do all Email Marketing Services allow you to send emails to 3rd party purchased email lists?
No. Not all email marketing services allow you to send emails to 3rd party purchased email lists. Therefore you need to check with your service provider. MailChimp, HubSpot and Constant Contact do not allow you to send emails to purchased email addresses.
What do I do after I buy a contact database?
After you buy a contact database, you can execute your marketing strategy by sending out marketing messages to potential customers! Upload your purchased email list into your email marketing program and start a campaign.
For the best ROI, you should use a verified, trustworthy 3rd party email service provider to begin your email marketing campaign. This will ensure email deliverability, less bounced emails, less emails hitting spam folders, and higher open rates.
You can also reach out to Ascentrik Research for managing your email campaigns on your CRM. We are well efficient at creating and managing campaigns on the CRM, pre-sales activities, responding to queries, and assigning contacts to the respective marketing and sales executives.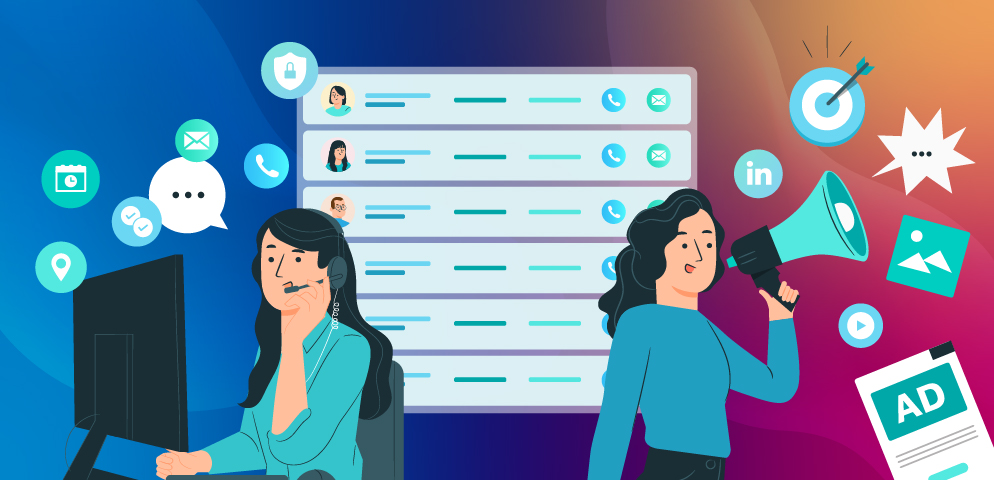 B2B lead lists, or prospect lists, have become an important aspect of businesses in today's economy. By having a targeted list of potential customers, you can focus your efforts and resources on those who are more likely to be interested in your product or service, increasing your chances of success. Some of the major applications of a B2B lead list are cold calling, advertising and email marketing.
Reaching out to new prospects and eventually converting them into customers is directly proportional to a company's growth and increasing revenue; therefore, leveraging a high-quality B2B lead list is beneficial for your marketing and sales teams.
read more