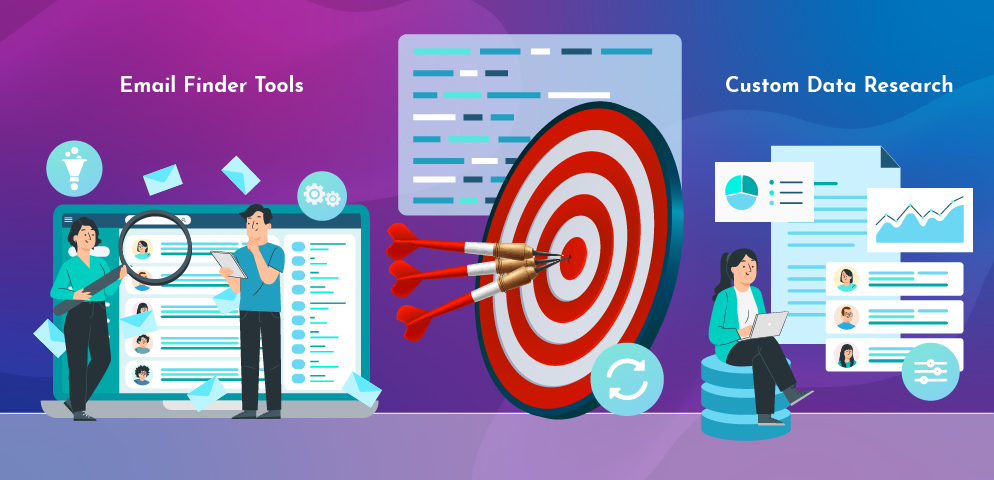 How does customisation of b2b contact databases improve the outcome of your marketing campaigns?
Published on 1st September,2022          Last Updated on 23rd August,2023
Finding a prospect's contact information is a struggle, yet it is very important to every b2b data marketer. It could be a prospect's personal email address, business email address, direct dials, mobile phone numbers, or social media profiles, and other contact points.
Contact discovery through b2b contact database providers
Today marketers can find numerous contact data vendors that help you build b2b contact databases as well as company databases. Many even enrich them with business intelligence as well. These contact database providers help fuel your sales pipelines with a list of prospects and decision makers that you can market to.
These databases are pre-built and equipped with millions of contacts, which you can search through quite easily, based on filters. You get very quick access to large volumes of data, most have fairly simplified interfaces that you can navigate through and download data in bulk.
Many provide free trials so you can test them out before you buy. They integrate with most CRM systems. It's a quick way to get started with email marketing campaigns. It avoids the task of building a list yourself through content marketing.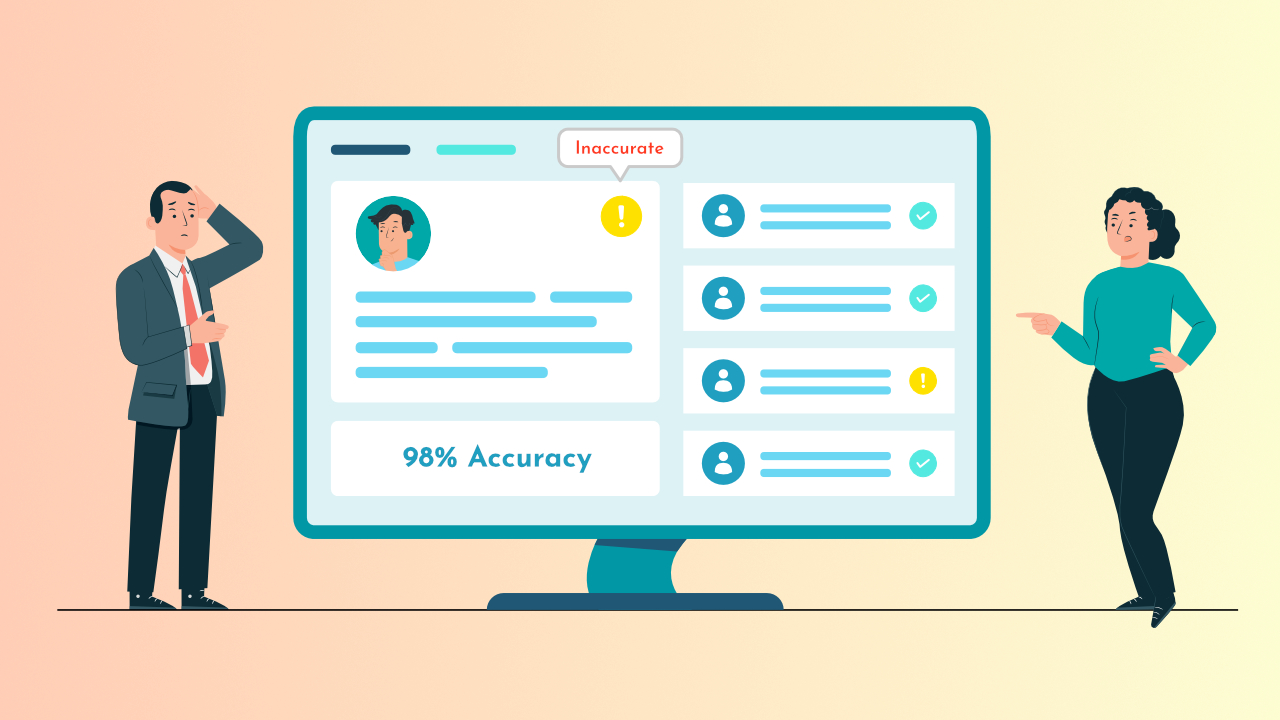 But the question is are they accurate enough, and what are the factors that determine their accuracy?
If you look at online reviews, there are numerous complaints of inaccuracy, even with b2b data companies that claim around 98% accuracy or real time refresh of data. Contact data always turns stale as it is refreshed quarterly by most contact data providers. Even monthly refresh cycles are very rare, let alone real time refresh of data.
To understand why, we need to look at the factors that influence b2b data accuracy. This will give us insight into what is the easiest route to accurate data that gives you the highest ROI on your marketing and sales campaigns.
Methods of Sourcing Data-
Methods used by b2b contact data providers:
Some software source data through automated machine learning, by scanning a variety of public information on millions of domains every day. These sources include corporate websites, press releases, news articles, security and exchange commission filings, job postings, and other online sources that provide information about industries, locations, revenue, and additional company attributes.
Some tools use a high level of automation to save human effort, while some use AI based systems to find contacts based on your desired criteria. This reduces the process to just sourcing an email list based on given criteria, while leaving the research and human verification aspect out. Automation prevents customisation. You cannot obtain data from niche industries and job titles, leaving you with just the commonly searched industries.
Many of these tools have third party data partners, which brings in the need for greater vigilance over quality. With such online tools one would expect a high speed and response time of the software, and a good customer support, which many users have found to be lacking. Users have also found such tools with heavy automation to be unexpectedly pricey.
Methods used by custom research teams:
The methods spoken of above are common to b2b database solutions. This is in direct contrast to custom research teams, who function as data partners.
Here data is sourced in-house, by research teams and domain experts, who work as full time employees for the respective client.

Moreover data is sourced from the ground up for each client. Data is not stored in databases, hence this process is referred to as custom research or custom data sourcing.

This data becomes the client's intellectual property, and cannot be purchased and shared by competitors.
This method also allows for email list sourcing for very niche market segments.
The key takeaway is that since you have your own team building a custom database, focused on the success of your email marketing campaign, you receive support all through your campaign. In case a lead switches his job, which happens quite often, you get a replacement whom you can target. You also get single and double opt-in data since the entire process is designed for exclusivity, customisation and adherence to GDPR compliance.
Data Verification Schedules-
Schedules used for most contact databases:
The next aspect we need to pay close attention to is the verification schedules of an automated software system. They offer anywhere between 30 to 90 days verification of the stored data. They use either SMTP, human verification or various levels of automated checks.
Automation makes real time updation of stale databases impossible because of their sheer size. It's impossible to clean millions of contacts on a daily basis.
Yet there are contact data providers who claim to refresh data in real time, but the pricing of these products tends to be in the premium range. In such cases, having a free version for trial purposes is the only way to check the product's suitability without spending a great deal.
Furthermore, there are tools that lean heavily towards AI based models for sourcing data and automated verification of data to save human effort. While this may be suitable for some organisations, others would want a more personalised approach, or a combination of automated checks with human verification to ensure higher accuracy.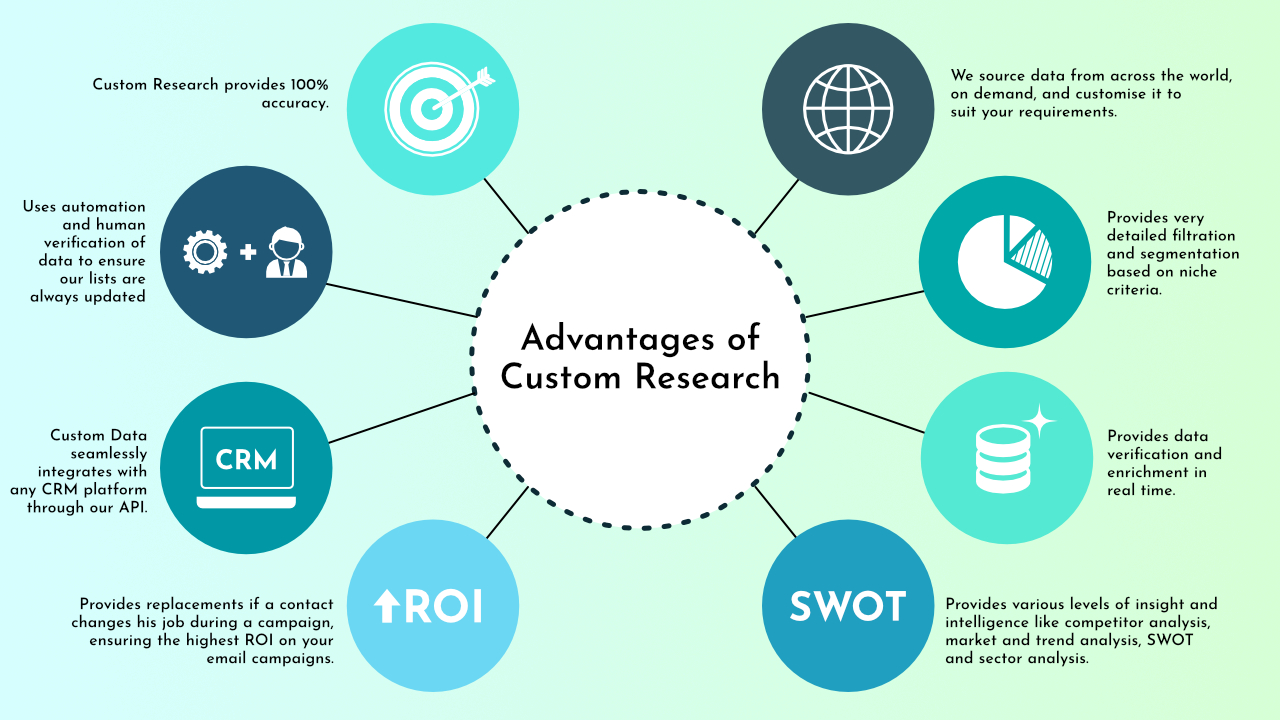 Understanding Custom Research
This is how custom data research solves all the above problems:
Custom research provides 100% accuracy. This is because unlike most data vendors and software solutions, we do not store contact and company databases. We partner with our clients to build made-to-order databases.
We source data from across the world, on demand, and customise it to suit your requirements.
Since we are focused on exclusivity and customisation, we provide very detailed filtration and segmentation based on niche criteria that you specify.
We provide various levels of insight and intelligence like competitor analysis, market and trend analysis, SWOT and sector analysis.
We provide data verification and enrichment in real time, as our email list is built freshly for each client.
We use automation and human verification of data to ensure our lists are always updated and even provide double opt-ins to ensure consent.
We provide replacements if a contact changes his job during a campaign, making sure that you get exactly what you paid for, and ensuring the highest ROI on your email campaigns.
Our data seamlessly integrates with any CRM platform through our API.
Concluding thoughts:
The most persistent downside of using such b2b contact databases is the inability to have all the features you need within a single solution. In that case, you may end up juggling between 2 or more solutions, which ends up in more time and money spent. Therefore it's important to make sure you have all the features you need by using a trial version first.
Also, some solutions still charge for inaccurate and unverified contact data, email addresses or phone numbers which results in wasted time and money.
Despite tall accuracy claims, you end up with bounced emails on your marketing campaigns. This is because data gets stale and needs to be updated often. Most platforms have a fixed refresh schedule like 30 or 90 days, leading to a lot of stale data. Since contact data is shared between users, you and your competitors end up having very similar data, and there is a lack of exclusivity.
As you can see, custom or bespoke research matches up on all performance indicators from data coverage, data enrichment, competitor and market intelligence, to CRM integration, and most importantly, outperforming our competitors through 100% data accuracy. Thus made-to-order databases are the best way to get the highest ROI for your marketing budget than any other b2b data service providers.
Off-the-shelf b2b data solutions are suited for quick download of data. This may work for some industry professionals who want a quick solution, and who are willing to accept a certain level of data inaccuracy. But for those who cannot compromise on data quality, and who prefer a team of researchers working solely on their project, ensuring the utmost level of confidentiality, these solutions seem inadequate, leaving room for a custom research based approach.
To know more about a custom research based approach visit this link
Try our Custom-Built Database with Highest Accuracy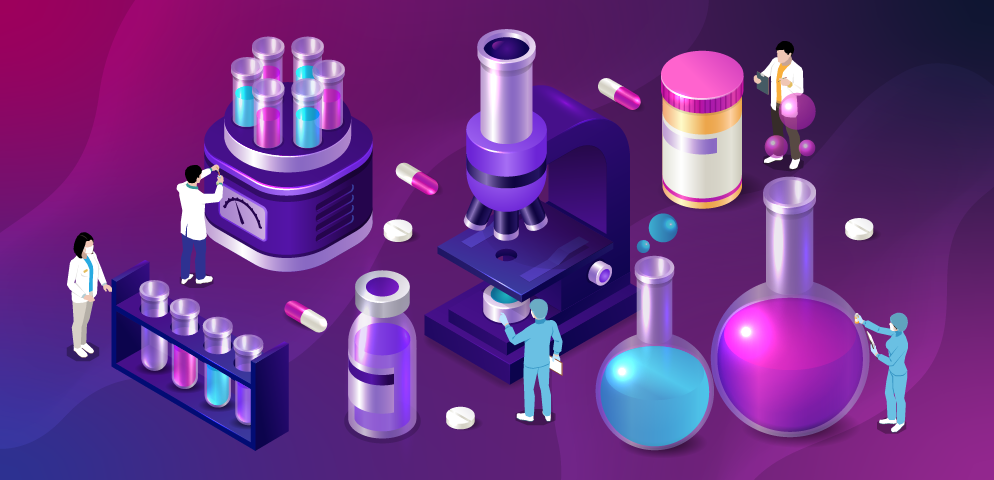 [dsm_perspective_image src="https://www.ascentrik.com/wp-content/uploads/2022/06/may-blog.png" alt="The Impact of Data Cleansing and Validation on your Marketing Efforts" title_text="Developments in the Pharma and Biotech Industry" align="center" force_fullwidth="on"...
read more