Data Mining and Business Intelligence in B2B Data Research
Turning Knowledge Into Profit
If we look at many large and mid-sized organizations today, in-house solutions are becoming redundant. This is because they struggle to store large datasets, lack speed, and efficiency, and fail to generate timely business intelligence. It is more profitable to have a data partner solely focused on data mining, hosting, and analyzing large datasets.
Ascentrik has the data mining and BI tools that

combine automation as well as human expertise,

to analyze datasets and convert them into intelligence.

The information is then directly fed into the client's API making it easily accessible anytime.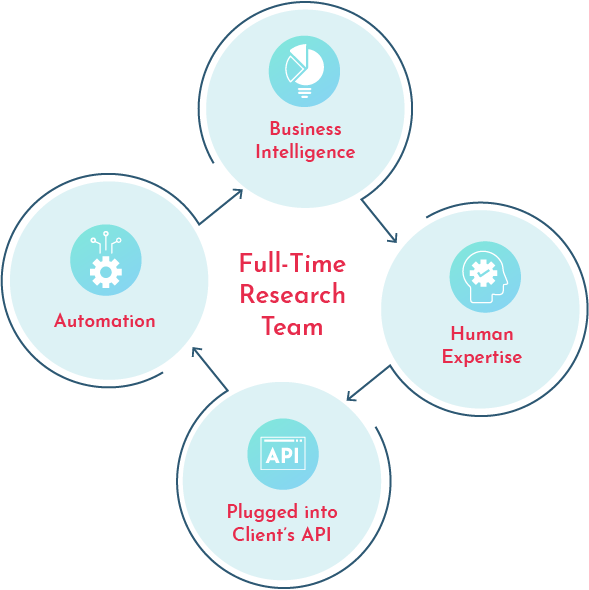 Ascentrik has developed various tools for automation of research solutions for its partners in the US, Europe, and other regions. Our experience spans across a variety of research techniques, in the areas of Financials, Infrastructure, Technology, Life Sciences, to name a few.
We offer solutions that encompass the entire project life cycle and provide our clients with the flexibility and convenience of working with a single point-of-contact who will seamlessly integrate into your team.
Our skills include research design and analysis, building market intelligence data, and extracting business insights.
Benefits of having a full-time research team that utilizes Data Mining and Business Intelligence?
Set and Measure KPI's (Key Performance Indicators) based on historical data
Identify market trends and spot business problems that need to be addressed
Enhance the quality of data and thereby the quality of decision making
Gain a competitive advantage through actionable intelligence
Improve efficiency and risk management
Enter new markets and identify new opportunities
Gain insights into reducing cost and increasing profitability
Convert data into easy-to-interpret charts, graphs, and dashboards
Find Out How Your Company Can Benefit From Our Data Research Solutions